TVT America's motors designed & manufactured by M/T Electric Motors S.r.l. of San Giavanni in Persiceto, Italy are manufactured to meet or exceed IEC IE2 Efficiency Standards. This standard is set by IEC 60034-30 (2008) directive for High Efficiency single speed, three phase, 50 and 60Hz, cage industion motors that are:
2, 4, or 6 pole windings (3000, 1500, and 1000 RPM at 50hz, or 3600, 1800, and 1200 rpm at 60Hz)

Are rated for output between 0.75 and 375kw (1 and 520hp).

A rated voltage up to 1000V.

Rated based on S1 (continuous duty) or S3 (intermittent duty) with a rated cyclic duration factor of 80% or higher.
IE2 values are nearly identical to NEMA Energy Efficient, and IE3 to NEMA Premium Efficiency Standards when at 60Hz frequency.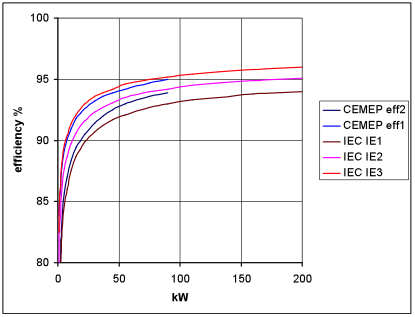 TVT America's motors are tested to a strict IEC 60034-2-1 testing protocol, which yield results that are compatible with those obtained by the North American IEEE 112B and CSA390 test methods.

The design & manufacture of our motors has required significant investment in test equipment, an expansion of our facilities, as well as the special knowledge and experience to work with the required higher level of instrumentation to test to insure the IE2 performance to IEC 60034-2-1.