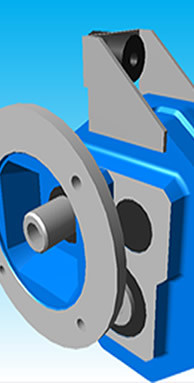 M Performance Drive - is the first clean sheet designed shaft mount for the conveyor industry in decades. This is NOT a Chinese clone of an old 1960's American torque-arm with drop-in parts. The M represents 500 years of progress in gearing design & manufacture, material science, and production efficiency in Italy.

Like other high-performance machines from Italy, the M has a lot of power packaged into a small package... up to 60% more torque in the same AGMA size shaft, but take a closer look and you'll see that the "A" dimension as much as 40% smaller than a competitors Shaft Mount reducers; much has changed since 1968 in manufacturing & engineering. Through bore the M takes less shaft also, and no bushing kit is needed; from the left, right or anywhere else.... clean and simple by design. Close to the head pulley means less overhung load and longer life on that bearing.

The M's gearing wasn't even imagined when the competition was drawn on a drafting board, nor was the ability to machine a gearcase to be gasket and leak free. Polyester Epoxy paint was something NASA was working on, and synthetic lubrication was something found on Jet Engines... too expensive for industrial gearboxes, but standard on M. While the Clones and tired old 60's gearboxes are telling you to first ADD petroleum oil to your dry gearbox when you install it, run it 500 hours, then drain & flush with solvent, then refill and repeat every 2500 hours or when the weather changes cold or hot (which ever comes first); and keep an eye on the heat too. With the M, we ship the gearbox with high performance Tivela S320 or comparable Synthetic gear lubricant, run our gearbox 12,500 hours, change with fresh synthetic lube and run another 12500 hours. That means our reducer is almost 1/6th less maintenance than theirs.

Finally, if you are designing a gearbox in the modern era, you can take advantage of Finite Element Analysis, CAD design, CNC manufacturing, super clean steels & advanced heat treatments, and automated manufacturing advances. Put into practical terms this means that not only can we make a better designed gearbox, but we can manufacture it more precisely AND more competitively. The M is priced below the leading competitors, is made to run longer and harder, and that's what value engineering is all about.
Seven double reduction models - ratios 10, 12.5, 16, 20, and 25/1.
T2N - 2389 to 76,116 in-lbs output torque - Up to 59% higher torque rating than AGMA standard.
AGMA 107 to 315 in Inch & Metric - more compact in size, but higher in power.
Compact & Standard Tension Arm mounting kit available.
Polyester Epoxy Painted inside & out RAL Blue 5010 - Corrosion & Chemical Resistant
Gears - 16CrNi4 or 18NiCrMo5 UNI7846 Quench-hardened and case carborized and ground steel.
Housings - Engineering Cast Iron, EN GJL 200 UNI EN 1561, ribbed internal & external for rigidity.
CNC precision machined & ground, gasket free & dowel pinned two piece leak free gearcase.
Shipped wet & ready in S 320 Synthetic gear lubricant for 12,500 hours of maintenance free operation.
Oil sight glass, vents, and drain plugs in convenient, easy to access, multiple position locations.