Since founding TVT America in 2003 I have worked to bring the high quality and innovative power transmission solutions from my friends & factories in Italy to the North American market. Our Drum Motors are excellent in design, performance, and price. Add a TVT-Drive to our drum motors and we can provide you a 1ph to 3ph, variable speed, compact and self contained system at a very affordable price. Person to person, one solution at a time, you will like TVT and what we deliver.

Mark D. Solvie, President/CEO

Download Drum Catalog
No belts, chain, guards, sprockets, nothing to tighten or replace, clean or lubricate, and compact in dimensions, the RM Series from TVT production partner Electric Motors MT is another high performance problem solving solution from TVT America.

Motorized Pulleys, a.k.a. Drum Motors, are growing in preference as a smart way to drive a conveyor belt, significantly more compact, increased safety, maintenance free, silent operation, and extremely trouble free service is the primary selling points.

The RM series is directly interchangeable with motorized pulleys from manufactures Van DeGraff, Interroll, Rulmeca, as well as distributors such as Sparks, as MT is designed & manufactured in Europe where motorized drums have already gained a large market share for conveying. For machinery designers considering replacing their gearbox & motor drives with a Motorpulley the complete cost of all components must be considered to understand the savings. A drum motor from any supplier will cost more than a reducer & motor alone, but that is not the entire expense... the RM replaces the headpulley, the pillow block bearings, the gearbox & mounting bushings, the shieves & belt, the belt guard, and the electric motor and mounting. There is also less labor, fabrication time, and for products that are shipped to clients the package is lighter & easier to enclose. The savings is there for the engineer or designer who has a sharp pencil, but the great return on this is the feedback from customers of conveyors using our RM. Clean, simple, no maintenance, great for compact quarters (such as loading an unloading ships and containers), quiet operation is appreciated in areas where personnel are present; as is the inherent safety improvements.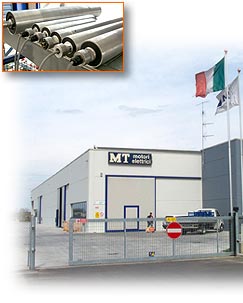 Our motorized drums are manufactured in San Giavanni in Persiceto, between Bologna and Modena, Italy, at TVT America production partner MT Electric Motors. A young and innovative company, MT is interested in developing and shipping customer minded solutions, and with a strong history in high performance electric motor manufacture the motorized pulley is a natural progression into the market.

The Drum motors are manufactured under MT's strict process control, to insure silent operation and a long reliable service life. Our designs are all CAD designed and machined on automated NC machine centers to insure ideal precision with overall competitive pricing through production efficiencies.

Quick delivery, quality assured, competitive pricing, and innovation are leading characteristics of MT Electric Motors for TVT America.