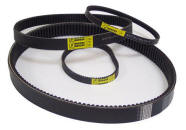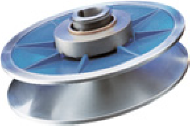 Genuine Berges Pulleys & Belts from Berges Antriebstechnik GmbH & Co. of Marienheilde, Germany are now available for North America from TVT America, Inc. TVT has long enjoyed a relationship with Berges for the RGAE drive made with Berges Belts & Pullleys. Realizing the unmet need for new & replacement pulleys & belts for Berges equipped drives that are designed like our own reliable RGAE, we have fully engaged in supporting this market.
TVT America's location in the middle of North America allows convenient 2-day shipping via ground UPS or FedEx to nearly 80% of the market, and our steady inbound air-freight shipments of service parts from Europe for our range means we can deliver non-stocked items quickly and affordably.
The Berges Pulley & Belt range is the refined perfection of belt driven mechanical variable speed, they are used on a wide range of machines in the food processing, petro-chemical, pumps of all kinds, metal working, stone working, and this list goes on and one. Where reliable, easy maintenance, and simple operation for variable speed is required... Berges is a trusted solution all the way to 280hp.
The Pulleys are available in three principle designs:
The Berges RF..b pulley is the wide belt system that uses the R..b type pulley which has adjustable pitch diameter as the control pulley on the motor shaft, the F..b type pulley is provided with a tensioning spring, and in constant center distance applications this pulley automatically tensions the belt by adjusting its diameter to complement the relative diameter of the R..b driving pulley. This extremely reliable design can offer variable speed ranges upto 10.5/1 and safely manage power to 225hp.

The Berges RD..b pulley system is also the wide belt system that uses the R..b type pulley to control the pitch diameter and thus ratio of the drive on the motor shaft. In the RD..b configuration, the D..b pulley is an advanced design from Berges GmbH that incorporates TLC (Torque Limiting Control) by means of an integrated control cam that absorbs intermittent overloading or torque peaks, and allows the output pulley to function as a ridged V-belt drive when locked. This brilliant design yields a high degree of protection against overloading and is especially useful in the higher power ranges. The RD..b is available from 10 to 225hp and can offer ratios upto 8.5/1 in some sizes. The RD..b uses the standard high performance Berges Wide V-Belts for ideal Variable Speed performance.
Berges KRM pulleys are ideal for lower horsepower applications where a standard V-belt can be used. The KR is mounted on the motor shaft or driving shaft and functions as the control pulley, the KM pulley is the spring loaded auto-tensioning pulley which is on the driven side. This configuration provides constant center distances, ideal tensioning, and a 6/1 variable speed range. Power for the KRM series is between 1/2hp and 1.5hp, thus serving a large section of light horsepower applications requiring simple, reliable, low maintenance variable speed control. The KRM can operate with standard metric belts in sizes 10, 13, and 17mm width, and the Genuine Berges brand belts are available from TVT America for on-line purchase or standard purchase orders.
Berges RF pulleys for standard v-Belts uses interlacing pulleys to allow a wide speed range with the standard metric V-belts in sizes 10, 13, 17, and 22mm. The interlacing pulleys will allow speed change upto 8.5/1 in overall variance. The RF series pulleys are available in several standard metric bore sizes, and can handle horsepower from 1/2 all the way to 7.5hp. Genuine Berges V-Belts are available from TVT America, as well as the R and F pulleys for on-line purchase as well as purchase orders.
Berges Pulley & Belt systems are used all over the world, there is a wide range of accessories available from Berges GmbH to suit your needs. There are easy to operate hand speed change controls for the KRM, RF, RF..b, and RD..b series pulley systems as well as remote mounted manual controls for the RF and RF..b series pulley & belt systems.
Of course for a complete system, we offer the RGAE enclosed Berges Belt & Pulley Drive system. From this design we can control power from fractional to 225hp, manual control, or electric remote control. Very large motors can be easily tamed with the rugged & reliable RGAE system empowered with Berges Pulleys & Belts.